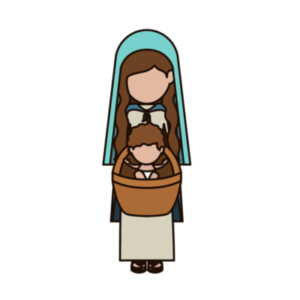 As the only girl in my Sunday School class, I was usually asked to be Mary, the mother of Jesus, in our annual Christmas plays. Though an honor to play the role, the story of the birth of Christ was not yet real to me. Roles in Christmas plays faded away as "life happened."
Trudging through my twenties, I felt alone while raising two little girls. The mess of my life made me think I didn't want or deserve any help from a judging God waiting to discipline me.
My despair finally fueled hope that maybe God loved me enough, and was forgiving enough, to help me make my life better. It was then that I learned how flawed my perspective of Him had been. It was time to grow from knowing Jesus' story to knowing Him.
I learned His love for us is extraordinary and without conditions. Because of this love, Jesus came to earth to stand in for us. As a willing substitute, He assumed responsibility for all the sins we ever committed — and ever would commit. He made this sacrifice for us for free — no charge.
The terrible things I'd done, and the awful things done to me, could all be forgiven and healed because of Jesus and His love. That night, so long ago, He was born to Mary with you and me in mind. Because of that pivotal moment in history, we can all have hope, and we can all have a personal relationship with the King of Kings.
What is your story? Has Jesus become real to you?
"This is what real love is: It is not our love for God;
it is God's love for us.
He sent his Son to die in our place to take away our sins."
(1 John 4:10 NCV)