On July 25, 2017, The Heart Healer: God's Response to Personal Prayer in a Hurting World, was finally released! The journey from conception to publication was long and often arduous, but I will always cherish the long days of prayer and perception of God's presence. The experience was incredible!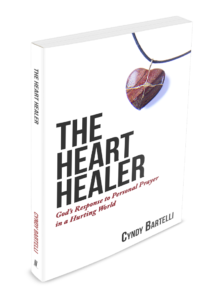 Testimonies from readers have been flooding in. I'm excited to report that Almighty God is healing many hearts as readers open their closets of pain to allow His touch. I'm humbled and thrilled. You can read many testimonies on the home page of this web site. I'll summarize a few below:
A retired military veteran suffered from PTSD for many years. He is now healed and is experiencing a changed life.
A six-year old girl prayed with her Mommy after a boy hurt her feelings with critical words and caused her to feel ashamed.You should see her smiles now!
A young woman prayed after witnessing a horrible car accident. She asked the Heart Healer to heal her from the trauma she felt and was amazed at the resulting peace.
Pastors are encouraging prayer for heart healing during altar ministry in church services.
An attorney who has handled thousands of cases over the years, poured through the book the first night he bought it. I can imagine the many others whose lives will be touched.
A ministry worker who has prayed for others and received personal prayer for healing, read the book, and received even more healing and peace than ever!
I invite you to comment with your own stories as well!
God lives forever and is holy.
    He is high and lifted up.
He says, "I live in a high and holy place,
    but I also live with people who are sad and humble.
I give new life to those who are humble
    and to those whose hearts are broken.
(Isaiah 57:15 NCV)