The Heart Healer Group Leader Support
Has the Holy Spirit been tapping you on shoulder saying, "It's time to impact another life?"
Would you like to help others get past their past?
Announcing our new coaching program for The Heart Healer Group Study Leaders!
For home – church – online
With our special pricing plus online coaching, we'll walk you through your Heart Healer Study however you choose to present it.
Participants will learn to:
Recognize that God's love for them is genuine, personal, and powerful.
Pray for healing for each memory that triggers pain in their past.
Respond with immediate prayer when new trauma occurs.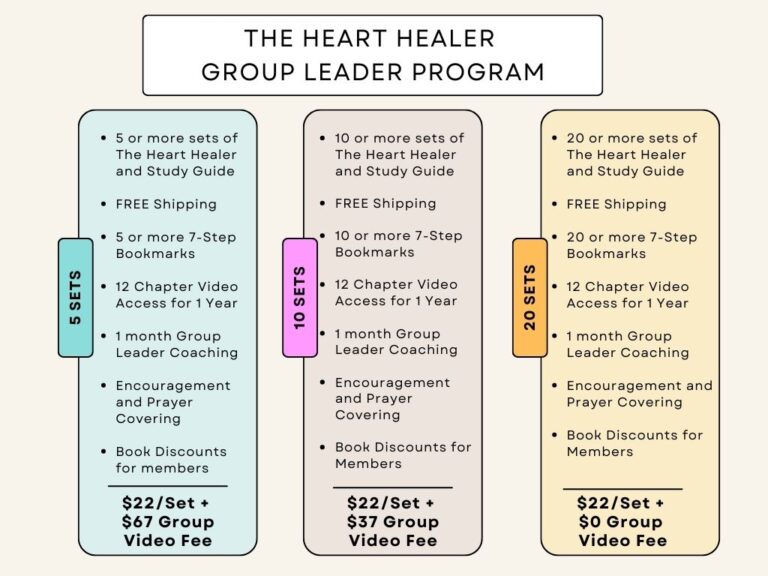 "Your [online] classes have really helped so much. Although I'm the "silent" one I am so glad I am taking the class. It's amazing! I am much more at peace. It has helped me with other things I had also put away and tried to forget. This whole class has been a blessing. Everyone should have the opportunity to take it."
"[This study is] Absolutely beautiful!!! They love it. People are having breakthroughs. Great discussions and tears. We took one chapter per week so that we could discuss the questions and share our thoughts. We had a small group but it turned out to be a support group. It's almost like perfect strangers have become perfect friends."
"I had the opportunity to lead two groups of women using The Heart Healer and the journal. Through our journey both groups became close friends and prayer partners. Many overcame past hurts and gave books to their children and friends. If you have not read or studied The Heart Healer, I pray you will. It is life changing."
"Thank you! I just want to thank you for this course. It has truly helped me a lot. I had been praying and asking God to show me what was keeping me from moving forward and then [my friend] shared your class with me. I am so very grateful to God for bringing you, your book, and online course into my life. It definitely has made an impact on me for the better."